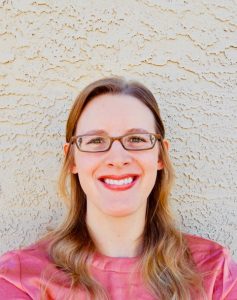 It's hard to find somebody as dedicated to learning as Dr. Kacey Greening. After years of working primarily in college counseling centers, Dr. Greening made a bold move and re-routed her career path back to her original plan: working with kids and families.
And the timing couldn't have been better. Just as Dr. Greening was launching back into pediatric work, Intuition Wellness Center opened a position for a new clinical team member. Her thoughtful approach to her work, gentle presence, positive attitude, and devotion to ongoing training are just a few of the many ways that Dr. Greening won over the Intuition Wellness team. There's also a lot more about Dr. Greening to like…
Who is Dr. Kacey Greening?!?
Where are you originally from? I was born and raised in Chillicothe, Ohio.
Favorite vegetable: Carrots.
What do you do to relax? Some of my favorite ways to relax are hiking and mountain biking, watching college basketball, and spending time with my husband, family, and friends. I also love to cook and bake.
Name an unusual thing that you know how to do that many others do not: I grew up watching my dad compete at his Archery club so I learned how to shoot a bow. It's a lot of fun and a great stress reliever.
Name a guilty pleasure: Watching my favorite Netflix reruns.
What's a professional topic that you get especially excited about? I'm a big believer in self-compassion. I practice it daily, many times a day! My hope is that in being kind towards myself it will encourage people to be kinder to themselves too.
What led you to decide on joining the Intuition Wellness team? Working with kids, young adults, and families has been a passion of mine since I started working in this field. Intuition's mission to inspire others to live in health and joy is consistent with my own philosophy, and I wanted to be on a team with people who share my values. Another key factor that led to me joining the team at Intuition is my colleagues. When I was getting to know the Intuition team, I instantly felt a warmth and a kindness that put me at ease. I was also impressed by their commitment to continued growth and quality services. I remember thinking that Intuition was a work environment where I would be supported and challenged to grow, while also being able to offer support and challenge others to grow.
What if someone is feeling nervous about coming in to see you? Is there something they should know? My personal approach is that everyone needs some support and help from time to time, myself included. Engaging in counseling can be a wonderful form of self-care. I know that for many people reaching out for help, it can take a lot of strength and courage, which is one of the reasons why Positive Psychology is so important to me. I think being mindful of pleasant and meaningful experiences are just as important as being mindful of the areas we're struggling in. When I provide counseling, I not only try to be attentive to the areas where a person feels stuck, but I try to use their strengths to problem solve and create healthy changes.
What's something that parents and kids might like to know about your approach? I work very hard to find helpful strategies that are consistent with client and family values. I enjoy using art, therapeutic games, and creative approaches to identify client and family needs and to build a trusting relationship. I also incorporate skills from Cognitive Behavioral Therapy, Positive Psychology, Dialectical Behavior Therapy, and Acceptance and Commitment Therapy. Many of the things that are important to me as a person also come through in the therapy room, such as kindness, creativity, and collaboration. When I work with clients and families, I see my role as being on the journey with them and collaborating with them to decide what's best for them.
For more updates on Intuition Wellness Center's services and programs, subscribe to our newsletter or pop on over to our Facebook page for lots more great stuff.
At Intuition Wellness Center, we specialize in integrated behavioral health services and wellness programs for children, young adults and families. Call 520-333-3320 for a free phone consultation.
Written by: Dr. Brandy Baker, PsyD and Dr. Kacey Greening, PsyD