Despite the fact that I typically consider myself less tech savvy than many of my same-age peers, I'm just as guilty as the next gal when it comes to overindulging in technology and screen time. I am sometimes device-distracted and dependent and it has, without a doubt, impacted the quality of my engagement in the world. To prove it, I'm going to confess: Sometimes I have to practically sit on my hands in order to resist the urge to grab my phone when I hear a buzz or ding and this has occurred during dinnertime with my family; I have gotten lost in a social media feed rabbit hole on more than one occasion for hours at a time and it has sometimes prevented me from getting to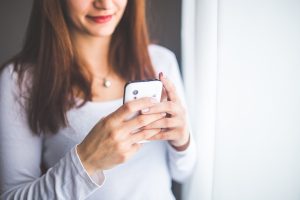 bed at a reasonable hour; I have often read junky articles online that did not improve my life or provide me with useful knowledge during times that I've set aside to complete work-related presentations and projects; and my biggest confession yet… my smartphone is  sometimes better at getting my attention than my children and I have, at times, wanted nothing more than to retreat into mindless technology in moments that I had set aside to play with my kids. Judge all you want, but I know that I'm certainly not alone in this because I have the great fortune of working with several families who struggle with the same sort of difficulties.
Generally, I interpret these moments as a sign that a parent is tapped out and desperately in need of self care. In my own life, I know that getting lost in technology and social media is unlikely to be helpful to getting rid of my brain clutter or recharging to my best mom self. Caroline Knorr from Common Sense Media wrote a great little article that gives good tips for those of us who would like to resist the screen time spiral. You can find Caroline Knorr's whole post here and a condensed excerpt below.
5 Simple Ways to Save Yourself from Device Addiction (condensed from Common Sense Media)
Keep a running list of "Things to google later." Ask yourself what's critical to know now and what's just good to know.
Tame your device. Use your phone's settings to silence alerts, set up a "Do Not Disturb," etc.
That goes for vibrate mode also. That "phantom vibration" you imagine… it's a problem.
Get yourself some parental controls. Enlist the help of apps to monitor your use and designate screen-free times.
Practice mindfulness. Turn off that "always on" feeling with a here-and-now focus.
There are some controversial posts out there that argue that limiting adult screen time isn't necessary. However, recent research is beginning to raise red flags around this issue.  For example, technology use that interferes with parent-child interactions (AKA "technoference") predicts children's attention-seeking behavior. There's still a lot left to learn on this topic and we really don't know how these device-distracted parent-child interactions will impact the child or the relationship in the long-term, though researchers have been observing these interactions for at least a few years in an effort to gain a better understanding. In the meantime, as with many parenting decisions, your personal values and parenting philosophy continue to be your most important guides when it comes to addressing the screen time issue and determining when and how to limit your own usage. Personally, I'm starting my "google later" list right now.
At Intuition Wellness Center we specialize in integrated behavioral health services and wellness programs for children, young adults and families and supporting other like-minded professionals in doing good work. If you think you need some extra support, call us. We offer parent guidance and a slew of other supportive services. Call 520-333-3320 for a free phone consultation.
You might also pop on over to our Facebook or Pinterest pages for lots more great stuff.
Photo courtesy of Kaboompics via creativecommons.org
Written by: Brandy Baker, PsyD