It's not at all uncommon for children to feel some anxiety at the start of the school year. For some children though, it turns into nearly paralyzing fear and gets in the way of them enjoying school. Anxiety is generally a reaction to feeling out of control of a situation.
8 ways you can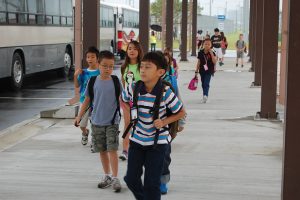 help your child feel in control and cope well with their return to school:
• Start transitioning into the school year morning and bedtime routine at least a week in advance
• Get to the bottom of the fear by asking them about their "worst case scenario"and determining, together, a plan for handling it
• Discuss what will be the same about next school year (not just what's different)
• Arrange for your child to have a meet-and-greet with new teachers prior to the first day
• Mark the first day of school on a physical calendar that your child can easily see
• Take your child to practice finding their classroom and opening their locker in advance
• Email your child's teacher with a list that your child makes that includes questions about their new teacher and what they want their teacher to know about them
• Make the first day fun (write a message on the bathroom mirror, fill their room with balloons, special breakfast, etc)
Visit Intuition Wellness Center's School Help Pinterest page for other practical ideas for helping your child transition back to school, including: making it a great day, creating gifts for their teacher and getting them to talk about their school day.
At Intuition Wellness Center we specialize in integrated behavioral health services and wellness programs for children, young adults and families and supporting other like-minded professionals in doing good work. If you think you need some extra support, call us. We offer parent guidance and a slew of other supportive services. Call 520-333-3320 for a free phone consultation.
Written By: Brandy Baker, PsyD