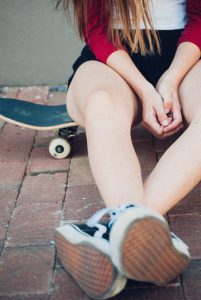 It's 7:21 am, you have exactly four minutes until you HAVE to leave the house. Your child finally walks to the front door, "ready" to go… with NO shoes. You love them so much, but instantly you can feel your face turn red. You've already been nagging them all morning. "Wake up!" "Hurry up!" "Chew with your mouth closed!" And now, they've walked out of their room, ready to go, with no shoes! You look at them and say, "Go put your shoes on! We are going to be late again!" Your child cries, "I'm not gonna wear shoes and you can't make me!" And away we go. Another battle begins.
How many of us can relate to a situation like this? As a result, it may feel like we are always focused on the negative, constantly wasting time and energy, nagging and caught up in power struggles. Maybe it feels like your child is entitled or lacks follow through. Okay, one last question, does it ever feel like you have to walk your child through the most basic daily routines and expectations? The struggle is real!
These issues are extremely common, and a major point of contention among families I support. One set of tools I have always been fascinated by and have witnessed the power of, time and time again, are the techniques and practices presented by Love and Logic. Love and Logic is an approach to parenting built on respect, trust and understanding. I have witnessed minor tweaks in language move mountains even in the most challenging of situations. These techniques are easy to implement, though require intentionality, allowing you to take back your healthy control by neutralizing arguments and using enforceable statements and positive reinforcement. Whether it's a power struggle with your child about putting on their shoes or addressing the "tornado" your teen left in the bathroom, Love and Logic is an impactful approach worth exploring.
Love & Logic Applied:
A teenager refused to clean their room and is requesting that Mom take them to the mall. This mom's approach demonstrates enforceable and neutralizing statements.
Teen: "Mom, can you take me to the mall to meet up with my friends?"
Mom: "Sure. As soon as your bedroom is clean, I'd be happy to drive you to the mall." *this is an example of an enforceable statement*
Teen: "Ugh, Mom, that is not fair. I don't have time! I need to go now."
Mom: "Aw, bummer. I hope you can figure this out."

Teen: "So, can you take me?"
Mom: "I would be happy to, as soon as your room is clean." *again, using an enforceable statement*
Teen: "I don't care what you said! This isn't fair! You never let me do anything!"
Mom: "Sweetie, I love you too much to argue with you." (walks away) *here we see the use of a neutralizing statement*
There are many ways to learn more about Love and Logic!  If you would like to schedule parent coaching rooted in Love and Logic principals, give us a call or check out a sampling on May 15 at our next Parents' Heart-to-Heart.
Learn about Intuition Wellness Center's next Parents' Heart-to-Heart Series… Love & Logic: Behavioral strategies that support your relationship with your child.
At Intuition Wellness Center we specialize in integrated behavioral health services and wellness programs for children, young adults and families and supporting pediatric professionals in doing good work. We offer parent education seminars, wellness classes and other supportive services. If you think you would like some extra support, call us. Call 520-333-3320 for a free phone consultation.
Written By: Emily Fenton, LCSW; Child & Family Clinician at Intuition Wellness Center