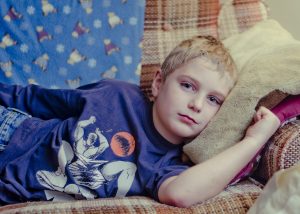 It's an era of sedentary activity– of children and adults who spend evenings and weekends glued to the couch. Many children have been trained to sit still for hours at school and then follow it with an hour or more of homework each evening. So when they have free time, naturally a child will retreat into … the stillness of video gaming, TV and social media?! It's true, many parents find it difficult to get their blobs school-age children active without the structure of an organized sport or the promise of a bribe (in the form of more time for video games, naturally).
Intuitively, many caregivers understand that it's important for children to move, but don't always know how. Here's a start.
Get 'em Off the Couch:
Avoid using sedentary activities, including screen time, as rewards and physical activity as punishment as this teaches kids that sedentary activity is more desirable than physical activity.
Explore out-of-the-box options until your child is having fun, such as wall climbing centers, guided hikes at national parks, trampoline parks, or hiphop dancing.
Make it a family affair by going on family hikes, riding bikes together, shooting hoops in the driveway, putting together an at-home obstacle course or doing yard work together.
Bring along a friend to the community pool or local playground and consider arranging for your child and their bestie to sign up for an organized sport together.
Establish a routine such that every Wednesday night after dinner the family goes for a walk or on Saturday mornings the kids go swimming at the YMCA.
Provide the materials for physical activity, such as soccer balls, jump ropes and sprinklers to run through.
If your child is still avoiding movement, they may benefit from support with coordination, muscle tone, balance, or body awareness. A

pediatric occupational therapist

might be able to help.
Need more ideas to get your kiddo engaged? We've got your back. Check out our
Pinterest
boards for lots of activities. If concerns persist, 
Intuition Wellness Center
 can help you and your family connect to resources.
At Intuition Wellness Center we specialize in services and wellness programs for children, young adults and families and supporting other like-minded professionals in doing good work. Call us at 520-333-3320.
Written By: Brandy Baker, PsyD