If your children (and you) sleep through the night, you are the envy of parents everywhere! So many things can get in the way of getting a consistently good night's rest– overstimulation, anxiety, depression, difficulty with making transitions, etc. Maybe your sweetie pie repeatedly begs for one more drink of water, worries about the next school day, or can't seem to turn off their motor at the end of the day. As a parent it can be so hard to keep your wits about you when you're tired, they're tired, and no one is getting their much needed rest. If you're ready to be proactive in support of healthy sleep patterns for your wakeful child, keep reading.
How Much Sleep Should Kiddo Get?
The National Sleep Foundation recommends that you and your littles strive to get the following amount of hours of sleep per night:
Newborns (0-3 months): 14-17 hours
Infants (4-11 months): 12-15 hours
Toddlers (1-2 years): 11-14 hours
Preschoolers (3-5 years): 10-13 hours
School Age (6-13 years): 9-11 hours
Teenagers (14-17 years): 8-10 hours
Adults (18-64 years): 7-9 hours
Older Adults (65+ years): 7-8 hours
Now, there is a reason that a range of hours is listed for each age group and that is that people are all different. If you have questions about whether or not your unique child is getting enough sleep, consult with your child's physician.
3 Tips for Getting Your Child to Sleep
Be Consistent. You've most likely heard this tip before. Getting your child or yourself into a rhythm and routine each day is crucial for getting restful sleep. They should have a set bedtime and wake time regardless of whether it's a weekday, weekend, or holiday. Additionally, get a routine in place for bedtime that includes relaxing activities such as bath time and reading, or meditation and journaling. These consistent rhythms and routines will keep your kiddo's sleep cycles (circadian rhythm) in check and their natural melatonin production operating optimally. For more information on balancing natural melatonin levels, check out the tips below from Dr. Sage, Naturopathic Family Physician at Intuition Wellness.
Video not working? Try this: Get Your Child to Sleep: Rebalance Melatonin Production
Create a Sanctuary. Your child's sleeping area should be simple and their bed should be a sleep-only zone. This means that they shouldn't be doing their homework or even reading in their bed. Creating the right mental association for them will essentially train their brain to relax once they lay down in their bed. It's ok for your child to have some sort of transitional object, such as a stuffed animal, in bed with them. Yet, keep the space uncluttered overall to maintain your sleep-only zone. In addition, create a home culture that doesn't allow electronics in bed. The blue light emitted from screens can be especially problematic for sleep-wake cycles. Plus, keeping screen distractions away from bed will also create healthy bedtime boundaries. It's also best if your child can be awakened by natural light. However, most school days start so early that this often isn't an option. If getting up before sunrise is truly necessary, consider purchasing a light box, which will also support natural melatonin production.
Exercise and Movement. Children who stay active during the day often sleep more restfully in the evening. If your child has a tendency to be a couch potato, there are many strategies you can try to get them moving. Finding activities that they enjoy is especially important. They should refrain from heavy exercise close to bedtime. Activities such as slow yoga or stretching are ok in the evenings and you can even combine them with meditation or other relaxation techniques.
Looking for more? Check out a more detailed version of our sleep tips ready for print or to be bookmarked.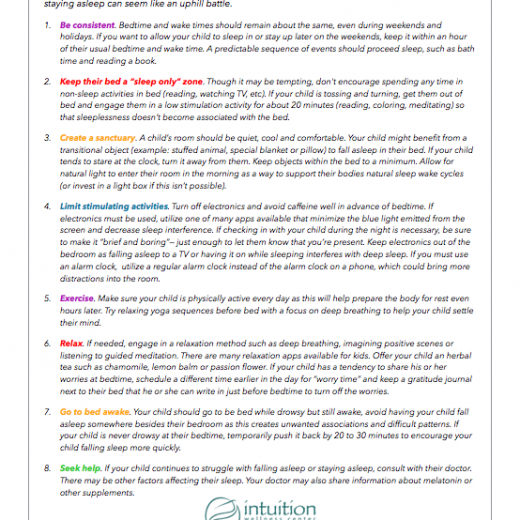 At Intuition Wellness Center, we specialize in health and wellness services for children, young adults, and their families. If you think you would like some extra support, call us. Call 520-333-3320 for a free phone consultation.